If you've just started learning Korean, it's vital for your success that you begin by building a solid vocabulary base. This means studying the most frequently used words in a variety of categories—and eventually learning how to form simple sentences with them! 
But, remember: Baby steps. 
Today, you'll just be learning some basic Korean words for beginners that you'll need in order to hold conversations with native speakers. 
Let's go!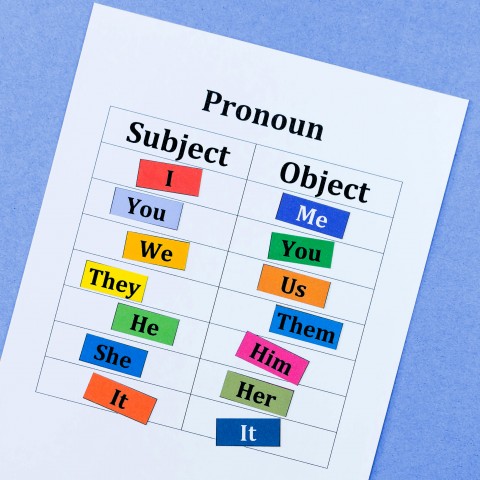 Table of Contents
1. Pronouns
The first words you should add to your Korean vocabulary are pronouns. These are the words that we use to refer to ourselves, the people around us, and even animals or objects, without saying the actual name of what we're referring to. Let's take a look: 
1) Personal Pronouns
| | | |
| --- | --- | --- |
| Korean | Romanization | English  |
| 저 | jeo | "I" |
| 나 | na | "I" |
| 너 | neo | "you" |
| 그 | geu | "he" |
| 그녀 | geunyeo | "she" |
| 저희 | jeohui | "we" / "us" |
| 우리 | uri | "we" / "us" |
| 그들 | geudeul | "they" |
| 그녀들 | geunyeodeul | "they" (females) |
2) Demonstrative Pronouns
There are three main demonstrative pronouns that you need to know: 
이것 (igeot) – "this" is used when the object is near the speaker.
그것 (geugeot) – "that" is used when the object is near the listener.
저것 (jeogeot) – "over there" is used when the object is far from both the speaker and the listener.
Example:
여기에 있어요? (Yeogie isseoyo?) – "Is it here?!"
아니요. 거기에 없습니다. 저기에 있습니다. (Aniyo. Geogie eopseumnida. Jeogie itseumnida.) – "No. It's not there. It's over there."
Practice makes perfect! Check out these pages to learn more demonstrative pronouns: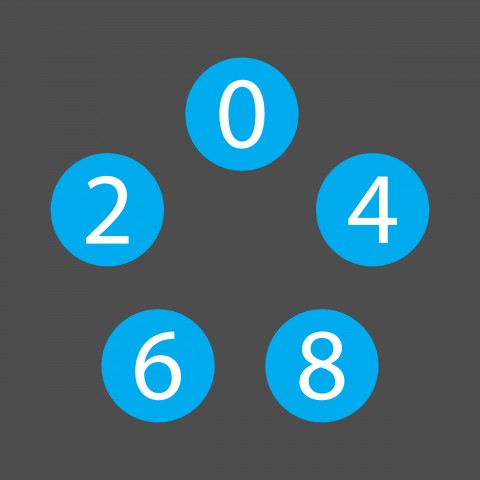 2. Numbers
Another set of simple Korean words to practice as a beginner are numbers. Once you have the basics down, you'll be well on your way to counting, discussing prices, and more! 
Numbers 1-10
There are two ways to count in Korean:
Sino Korean: Used for dates, money, addresses, phone numbers, etc.
Native Korean: Used for number of items and age 
Let's take a look at Sino and Native Korean for the numbers 1-10. 
일 (il) / 하나 (hana) – "One"
이 (i) /둘 (dul) – "Two"
삼 (sam) / 셋 (set) – "Three"
사 (sa) / 넷 (net) – "Four"
오 (o) / 다섯 (daseot) – "Five"
육 (yuk) / 여섯 (yeoseot) – "Six"
칠 (chil) / 일곱 (ilgop) – "Seven"
팔 (pal) / 여덟 (yeodeol) – "Eight"
구 (gu) / 아홉 (ahop) – "Nine"
십 (sip) / 열 (yeol) – "Ten"
Example
몇 살이에요? (Myeot sarieyo?) – "How old are you?"
아홉 살이에요. (Ahop sarieyo.) – "I'm nine years old." (O)
구살이에요. (Gusarieyo.) – "I'm nine years old." (X)
이거 얼마예요? (Igeo eolmayeyo?) – "How much is this?"
삼천원이에요. (Samcheonwonieyo.) – "It's 3,000 won." (O)
셋천원이에요. (Setcheonwonieyo.) – "It's 3,000 won." (X)
Check out Counting Part I: Sino-Korean Numbers, Counting Part II: Pure-Korean Numbers, and Numbers on KoreanClass101.com to practice your counting skills! 
3. Nouns 
Nouns are perhaps the most important part of speech when it comes to getting an idea across. They're used to identify people, places, things, and even ideas. When used with verbs, they form a complete thought—in a pinch, they can even be used by themselves most of the time! Below are the most essential Korean beginner words in this category. 
1) People and Occupations
Family members
장남 (jangnam) – "oldest son"
첫째아들 (cheotjjaeadeul) – "oldest son"
장녀 (jangnyeo) – "oldest daughter"
첫째 딸 (cheotjjae ttal) – "oldest daughter"
둘째 아들 (duljjae adeul) – "second son"
둘째 딸 (duljjae ttal) – "second daughter"
막내 아들 (mangnae adeul) – "youngest son"
막내 딸 (mangnae ttal) – "youngest daughter"
외아들 (oeadeul) – "only child" (male)
외동딸 (oedongttal) – "only child" (female)
형제 (hyeongje) – "brothers"
자매 (jamae) – "sisters"
언니 (eonni) – "older sister" (of a female sibling)
누나 (nuna) – "older sister" (of a male sibling)
여동생 (yeodongsaeng) – "younger sister"
오빠 (oppa) – "older brother" (of a female sibling)
형 (hyeong) – "older brother" (of a male sibling)
남동생 (namdongsaeng) – "younger brother"
쌍둥이 (ssangdungi) – "twins"
You can also check out Describe Your Family in Korean: "Brother" in Korean and More and Must-Know Terms for Family Members to learn more family-related vocabulary and gain insight into Korean family culture.
Occupations
농부 (nongbu) – "farmer"
시인 (siin) – "poet"
약사 (yaksa) – "pharmacist"
배관공 (baegwangong) – "plumber"
프로 포커 선수 (peuro pokeo seonsu) – "professional poker player"
변호사 (byeonhosa) – "lawyer"
영업 사원 (yeongeop) – "salesperson"
사무원 (samuwon) – "clerk"
엔지니어 (enjinieo) – "engineer"
미용사 (miyongsa) – "beautician"
디자이너 (dijaineo) "designer"
정원사 (jeongwonsa) – "gardener"
영상 제작자 (yeongsang jejakja) – "audio visual producer"
무대 감독 (mudae gamdok) – "stage director"
음악 기획자 (eumak gihoekja) – "music promoter"
We also have a vocabulary list with example sentences titled 20 Common Words for Occupations. Make sure to check it out if you'd like to learn even more occupation names along with their pronunciation.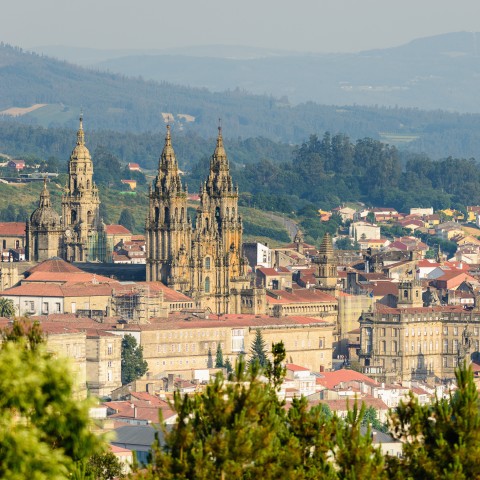 2) Places Around Town
도서관 (doseogwan) – "library"
서점 (seojeom) – "bookstore"
식당 (sikdang) – "restaurant"
꽃가게 (kkotgage) – "flower shop"
병원 (byeongwon) – "hospital"
학교 (hakgyo) – "school"
백화점 (baekhwajeom) – "department store"
커피숍 (keopisyop) – "coffee shop"
공항 (gonghang) – "airport"
지하철역 (jihacheolyeok) – "subway station"
호텔 (hotel) – "hotel"
시내 (sinae) – "downtown"
바다 (bada) – "beach"
우체국 (ucheguk) – "post office"
은행 (eunhaeng) – "bank"
소방서 (sobangseo) – "fire station"
경찰서 (gyeongchalseo) – "police station"
약국 (yakguk) – "pharmacy"
제과점 (jegwajeom) – "bakery"
슈퍼마켓 (syupeomakes) – "supermarket"
주유소 (juyuso) – "gas station"
방송국 (bangsongguk) – "broadcasting station"
3) School/Office Essentials
펜 (pen) – "pen"
공책 (gongchaek) – "notebook"
연필 (yeonpil) – "pencil"
숙제 (sukje) – "homework"
시험 (siheom) – "exam"
수학 (suhak) – "math"
대학교 (daehakgyo) – "university"
배낭 (baenang) – "backpack"
과학 (gwahak) – "science"
컴퓨터 (keompyuteo) – "computer"
노트북 (noteubuk) – "laptop"
아이폰 (aipon) – "iPhone"
Check out our vocabulary list School Subjects to learn more useful school-related words in Korean.
4) Body Parts
발 (bal) – "foot"
발목 (balmok) – "ankle"
다리 (dari) – "leg"
머리 (meori) – "head"
목 (mok) – "neck"
팔 (pal) – "arm"
팔꿈치 (palkkumchi) – "elbow"
손목 (sonmok) – "wrist"
손 (son) – "hand"
손가락 (songgarak) – "finger"
근육 (geunyuk) – "muscle"
뼈 (ppyeo) – "bone"
척추 (cheokchu) – "backbone"
몸 (mom) – "body"
배 (bae) – "stomach"
무릎 (mureup) – "knee"
피부 (pibu) – "skin"
혈액 (hyeoraek) – "blood"
등 (deung) – "back"
가슴 (gaseum) – "chest"
Want to learn more words for body parts? Check out our free list titled Your Face. 
5) Food
된장찌개 (doenjangjjigae) – "doenjang jjigae"
떡볶이 (tteokbokki) – "tteokbokki"
김치 (gimchi) – "kimchi"
김치볶음밥 (gimchibokkeumbap) – "kimchi fried rice"
순두부찌개 (sundubujjigae) – "raw bean curd stew"
김치찌개 (gimchijjigae) – "kimchi stew"
부대찌개 (budaejjigae) – "army base stew"
라면 (ramyeon) – "ramen"
냉면 (naengmyeon) – "cold noodle soup"
과일 (gwail) – "fruit"
바나나 (banana) – "banana"
사과 (sagwa) – "apple"
야채 (yachae) – "vegetable"
양상추 (yangsangchu) – "lettuce"
토마토 (tomato) – "tomato"
감자 (gamja) – "potato"
당근 (danggeun) – "carrot"
양파 (yangpa) – "onion"
수박 (subak) – "watermelon"
파인애플 (painaepeul) – "pineapple"
메론 (meron) – "melon"
콩 (kong) – "soybean"
살구 (salgu) – "apricot"
옥수수 (oksusu) – "corn"
고구마 (goguma) – "sweet potato"
땅콩 (ttangkong) – "peanut"
순무 (sunmu) – "turnip"
버섯 (beoseot) – "mushroom"
자몽 (jamong) – "grapefruit"
포도 (podo) – "grape"
캐슈넛 (kaesyuneot)  – "cashew nut"
견과 (gyeongwa) – "nut"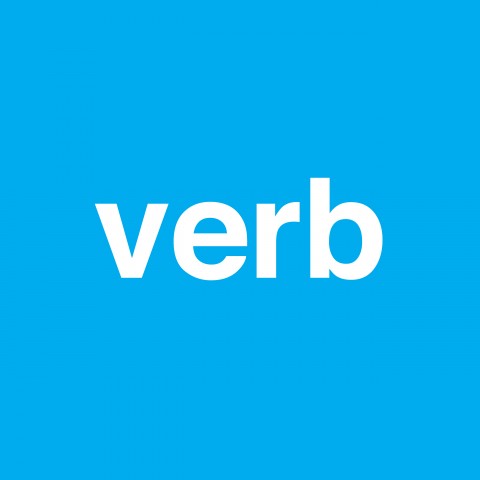 4. Verbs
Verbs describe actions or states of being, and they help to form a complete thought when used with nouns. To give you a huge vocabulary boost, here are the most common Korean verbs:
오다 (oda) – "to come"
마시다 (masida) – "to drink"
먹다 (meokda) – "to eat"
주다 (juda) – "to give"
가다 (gada) – "to go"
듣다 (deutda) – "to hear"
배우다 (baewuda) – "to learn"
만들다 (mandeulda) – "to make"
앉다 (anta) – "to sit"
자다 (jada) – "to sleep"
찍다 (jjigda) – "to take (a picture)"
쓰다 (sseuda) – "to wear (e.g. eyewear)"
신다 (sinta) – "to wear (e.g. shoes)"
빌리다 (billida) – "to borrow" / "to lend"
전화하다 (jeonhwahada) – "to call someone"
말하다 (malhada) – "to talk"
섞다 (seokta) – "to mix"
굽다 (gupda) – "to grill"
가르치다 (gareuchida) – "to teach"
기다리다 (gidarida) – "to wait"
알다 (alda) – "to know"
모르다 (moreuda) – "to not know"
요리하다 (yorihada) – "to cook"
끓이다 (kkeurida) – "to boil"
걸다 (geolda) – "to call" / "to dial"
청소하다 (cheongsohada) – "to clean"
닫다 (datda) – "to close"
일하다 (ilhada) – "to work"
쉬다 (swida) – "to rest"
운동하다 (undonghada) – "to exercise"
생각하다 (saenggakada) – "to think"
썰다 (sseolda) – "to slice"
튀기다 (twigida) – "to fry"
재다 (jaeda) – "to measure"
볶다 (bokda) – "to fry"
찌다 (jjida) – "to steam"
묻다 (mutda) – "to ask"
내다 (naeda) – "to pay"
결혼하다 (gyeolhonhada) – "to marry"
없다 (eopda) – "to not have"
살다 (salda) – "to live"
죽다 (jukda) – "to die"
찾다 (chatda) – "to find"
꿈꾸다 (kkumkkuda) – "to dream"
좋아하다 (joahada) – "to like"
걱정하다 (geokjeonghada) – "to worry"
약속하다 (yaksokada) – "to promise"
휘젓다 (hwijeotda) – "to stir"
하다 (hada) – "to do"
있다 (itda) – "to have"
거짓말하다 (geojinmalhada) – "to lie"
가지다 (gajida) – "to have"
기억하다 (gieokada) – "to remember"
고백하다 (gobaekada) – "to confess"
죄송하다 (joesonghada) – "to be sorry"
시작하다 (sijakada) – "to start"
싫어하다 (silreohada) – "to hate"
이야기하다 (iyagihada) – "to talk"
연습하다 (yeonseupada) – "to practice"
준비하다 (junbihada) – "to prepare"
태어나다 (taeeonada) – "to be born"
서두르다 (seodureuda) – "to hurry"
사랑하다 (saranghada) – "to love"
축하하다 (chukahada) – "to congratulate"
끝나다 (kkeunnada) – "to finish"
보내다 (bonaeda) – "to send"
사용하다 (sayonghada) – "to use"
팔다 (palda) – "to sell"
싸우다 (ssauda) – "to fight"
The more Korean verbs you learn, the better you'll be at holding conversations with locals. Check out Top 100 Important Korean Verbs for Beginners and Basic Korean Verb & Adjective Conjugation: Rules & Tips to expand your language skills!
Adjectives are used to describe nouns. They can add spice to your conversations and flair to your writing. Learning the basic Korean words below will give you more room for creative expression and help you get your point across! 
화나다 (hwanada) – "angry"
짜증나다 (jjajeungnada) – "annoyed"
나쁘다 (nappeuda) – "bad"
아름답다 (areumdapda) – "beautiful"
크다 (keuda) – "big"
쓰다 (sseuda) – "bitter"
심심하다 (simsimhada) – "bored"
지루하다 (jiruhada) – "boring"
씩씩하다 (ssikssikada) – "brave"
싸다 (ssada) – "cheap"
싸늘하다 (ssaneulhada) – "chilly"
통통하다 (tongtonghada) – "chubby"
깨끗하다 (kkaekkeutada) – "clean"
흐리다 (heurida) – "cloudy"
춥다 (chupda) – "cold"
차갑다 (chagapda) – "cold"
편하다 (pyeonhada) – "comfortable"
편리하다 (pyeonrihada) – "convenient"
시원하다 (siwonhada) – "refreshing"
귀엽다 (gwiyeopda) – "cute"
축축하다 (chukchukada) – "wet"
습하다 (seupada) – "damp"
맛있다 (masitda) – "delicious"
다르다 (dareuda) – "different"
어렵다 (eoryeopda) – "difficult"
더럽다 (deoreopda) – "dirty"
건조하다 (geonjohada) – "dry"
이르다 (ireuda) – "early"
쉽다 (swipda) – "easy"
당황하다 (danghwanghada) – "embarrassed"
비어 있다 (bieoitda) – "empty"
비싸다 (bissada) – "expensive"
빠르다 (ppareuda) – "fast"
뚱뚱하다 (ttungttunghada) – "fat"
기름지다 (gireumjida) – "fatty"
적다 (jeokda) – "few"
신선하다 (sinseonhada) – "fresh"
가득하다 (gadeukada) – "full"
기쁘다 (gippeuda) – "glad"
잘생기다 (jalsaengida) – "handsome"
착하다 (chakada) – "good-natured"
좋다 (jota) – "good"
행복하다 (haengbokada) – "happy"
딱딱하다 (ttakttakada) – "hard"
건강하다 (geonganghada) – "healthy"
높다 (nopda) – "high"
뜨겁다 (tteugeopda) – "hot"
덥다 (deopda) – "hot (weather)"
불편하다 (bulpyeonhada) – "inconvenient"
재미있다 (jaemiissda) – "interesting"
복잡하다 (bokjapada) – "crowded"
늦다 (neutda) – "late"
적다 (jeokda) – "less"
많다 (manta) – "many"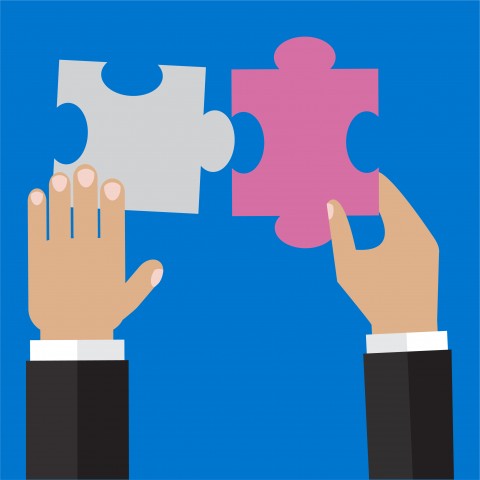 6. Conjunctions
그리고 (geurigo) – "and" / "and then"
그래서 (geuraeseo) – "so" / "so that"
그렇지만 (geureochiman) – "but" / "however" (to express disappointment)
그런데 (geureonde) – "but" / "however"
그러면 (geureomyeon) – "then" / "in this case" / "if it's so"
아니면 (animyeon) – "or"
때문에 (ddaemune) – "because of"
만약 (manyak) – "if"
그래도 (geuraedo) – "even if"
Want to learn more about conjunctions? Check out the lesson Korean Conjunctions: Add Seaweed, and Meat, and Garlic on our website and visit this Wikibooks page as well. 
7. How KoreanClass101 Can Help You Learn Korean
Today, you've learned more than 200 of the most useful basic Korean words for beginners, from pronouns to conjunctions. It takes time to memorize each word and understand when it's used, but if you study every day, you'll eventually start to sound like a native speaker.
KoreanClass101 has plenty of free resources designed to help you learn even more Korean—from beginner lessons to advanced content—as well as tools you can use to practice. For example, our free vocabulary lists are a great way to learn new words and practice your pronunciation. 
Good luck with your Korean studies and feel free to leave a comment below if you have any questions.