Bowing out.
Sorry dear readers to make you wait an entire week to find out that I'm shucking you. I feel that it's my time to bow out with whatever dignity is left over from all my self-depreciating posts about my adventures in Korea. I have had a wonderful time writing here and hope that it has inspired others to write about their own experiences and opinions. My decision to part ways for time being is not in any way tied to any animosity or ill-will whatsoever. I've simply written all that I need to write for the time being.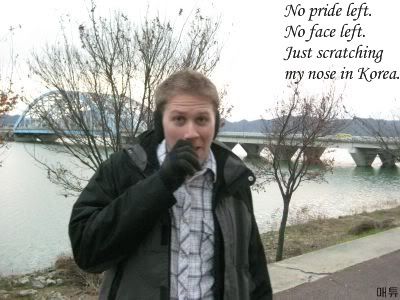 I've learned a lot about myself and of Korea during my time here. Your comments and viewpoints have helped me understand more about what makes me tick: Korea. For those still wanting to follow what I'm up to, I've got two blogs that might be of interest to you: one focusing on my Korean language studying and the other on my Korean history pursuits.
For those curious, I actually had a list of topics that I wanted to write but never got around to tackling them. For the sake of curiosity, I leave you with my unfinished list. Someone take the torch and blog away.
horoscopes / year of the ~ /constitution personality determination
(PIFF) Pusan International Film Festival / movie history
eccentric male TV hosts and why it's an acceptable deviation of standard gender roles
Korean mother-in-laws
geographic regions (part series)
history of korean innovation
재벌 (monopoly-like corporations)
grocery stores (360° shopping carts, locking escalators, soju in juice boxes, insanely nice service)
the fine art of haggling
cultural and linguistic double standards for Korean adoptees and half-Koreans
교포, 일점오세, 이세, Korean-Americans
public transportation (bus, taxi, KTX, subway)
gender separation at young age
surgical masks when sick / H1N1 hysteria
셀카 (selca)
religion and all those red crosses at night
losing face/ maintaining your supervisor's face amidst obvious error
speaking Korean  vs. not speaking Korean and how it can make you lose the upper hand
English education and the culture of being a glorified resource
competition between families / Korean mothers
Koreans and their history with Japan / 독도 / culture export, import
민족 (korean blood) / nationalism / cultural identity
It amazes me that I never touched upon the curiously self-indulgent self-camera culture as well as the murky and complicated 교포 waters. Oh well. At least I covered the overabundance of pickles. That's always important. Nice job Matthew.
I hope that this simple blog has been fun. So for the last time it seems, I ask you again:
Thoughts?