What a funny thing you have done to the English language, South Korea. You make me laugh. Daily. Hourly. Minute…ly.
But don't get me wrong. I'm not making fun of Korea in the sense that I think my foreign language skills are better. Not sure if you've noticed recently, but my Korean isn't that great. I'm still translating kid books. So yeah, it's fun to laugh at but plenty of my friends get to laugh at my expense daily.
Having said that, Engrish is funny. Some of my favorites: "Don't you tired?", "That test made me hard", and "You will be a stress". Classic. You can't make up comedy like that. Just a cursory google search will yield some awesome results. There is no shortage of goofy Engrish here.
What other native English speakers have posed before, and I agree with, is that Korea overuses English. I'm not saying that people use English too much in the sense of communication but for advertising and such, English is overused and largely misused when the target demographic aren't even native English speakers. Therefore, an advertisement in the Korean language would be seemingly more effective. I suppose it's the status symbol of English in this country that pushes such awful English. What status symbol that is, I don't know but it's some sort of status.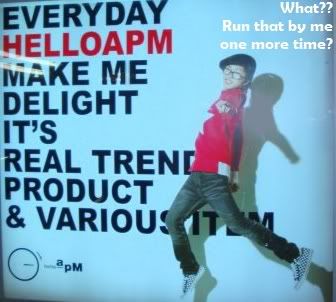 Still, if they started replacing questionable food titles and hilarious recycling signs with only Korean language explanations, it would make things hard to get around for non-Korean speakers. Make sure that I'm not for the full removal of English; I'm just for the promulgation of coherent English. Otherwise, leave it alone.
All in all, it's all just one big unintentional joke. Some of the best Engrish is found on trivial goods such as casual tee shirts and department stores. It's clearly geared towards a younger audience with disposable income who likely has more of a familiarity with English than the older generation. However, the line between clever marketing and professional incompetence gets blurred all too often leaving foreigners to judge Korea's image on things that Korea would rather not choose.
To put things in perspective (for our own entertainment, of course) I present Matthew: in full Engrish. Imagine me at a subway stop near you. Brace yourself. It's going to get ugly.
Thus ends my Engrish modeling career.
The Korean language is daunting as it is but it's preferable than poorly edited Engrish. Making mistakes in a conversation is one thing – I would never fault anyone for trying to speak a foreign language, let alone English – but marketing English as some sort of hook is almost insulting. It trivializes the language and makes it the butt of jokes and weakly delivered Korean rap song introductions. Example you say? 쥬얼리 (Jewelry)'s song "Vari2ty" is 30% less sexy just from the introduction. What the hell Baby J? Didn't you live in California for a while? Reason #29 why I hate California.
Thoughts?